In 2018, Diakon celebrated 150 years of caring for our neighbors
Events included Old Main rededication, performance by national celebrity

The Rev. Philip Willard was familiar with the Tressler family's classical-academy-turned-orphanage when, in 1867, he arrived in Loysville, Pennsylvania, to purchase the children's home and make it an institution of the Lutheran Church.
Willard, after all, had been pastor of a Lutheran Church in Loysville from 1857 to 1858 and had more recently served as regional "agent" (essentially, a fundraising officer) for The Lutheran Theological Seminary at Gettysburg and, later, the Lutheran Publication Society of Philadelphia.
Willard was accompanied on that 1867 trip by Daniel Eppley, a Harrisburg attorney, to negotiate the purchase from Colonel John Tressler and his son, Captain David Loy Tressler. A decade earlier, the Tressler family had erected a three-story "Old Main" building on their land and relocated a local church-based academy to the facility. In 1865, as the Civil War ended, they turned the building into one of the first soldiers' orphans homes in the state.
Willard's purchase of the home completed, the Perry County Court granted a charter for the Tressler Orphans Home.
The date was early 1868—now more than a century and a half ago.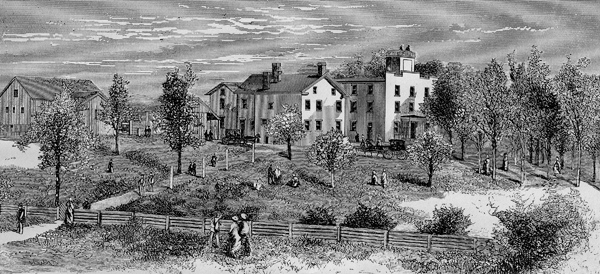 Named the first superintendent of the home, Willard spent the next year on the road raising some $4,000 to equip the home for its mission of serving "poor orphan children … [supplying] their temporal wants … [educating] them physically, intellectually, morally, and religiously … and … extend[ing] over them a wholesome guardianship."
So began the now more-than-150-year ministry offered by Diakon—a ministry that also includes the somewhat similar history of The Lutheran Home at Topton, established in 1896.
To mark that milestone, to reaffirm our church affiliation and to rededicate ourselves to another 150 years of service, Diakon held numerous events in 2018:
February: Staff appreciation events at all program locations and senior living communities
4:30 p.m., March 15: Dedication of the Helen N. Palmer Center for Permanency, as well as renovations to the historic Old Main building on The Lutheran Home at Topton campus
Mid- to Late 2018: Local celebrations and rededications at all Diakon program centers and senior living communities (see below)
4 p.m., Oct. 21, 2018: Sold-out performance by Jeanne Robertson, nationally known humorist - In Celebration of 150 Years of Caring for Our Neighbors, Strand Theatre at the Appell Center for the Performing Arts, York, Pa.
Now Diakon has begun its second 150-year span of serving our neighbors. We invite you to review our many history-related pages from the links listed above.