Rededication - Old Main, The Lutheran Home at Topton
March 15 event included rededication, 150th anniversary event, opening of permanency center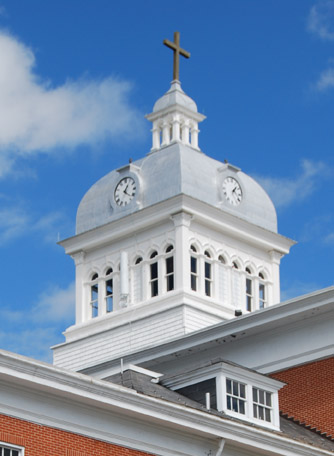 Several hundred people joined us March 15 at The Lutheran Home at Topton as we ...
Rededicated the refurbished Old Main building
Dedicated the Helen H. Palmer Center for Permanency, housed in the building for Diakon Adoption & Foster Care
Celebrated Diakon's 150th anniversary!
The Old Main project began more than a year ago and included refurbishment of portions of the building's exterior, installation of an elevator and extensive renovation of the second floor of the building, which now houses the Center for Permanency, a unique combination of Diakon Adoption & Foster Care offices and family-style areas designed to be used in the successful transition of children and youths into foster care or an adoptive placement. The refurbishment work was designed to retain the iconic building's historical character and appearance.
In addition, the second floor houses some Diakon Ministry Support offices, which relocated there from the now-sold Medical Arts Building adjacent to Luther Crest in Allentown, Pennsylvania. The move to Old Main is in keeping with Diakon's careful efforts at stewardship.
The rededication service began at 4:30 on the second floor of Old Main, followed by a public open house, including light refreshments. Tours of Old Main, as well as the adjacent senior living community, were open to the public.
To learn more, read our news release.