Diakon Family Life Services dedicates renovated counseling center
Williamsport, Pennsylvania (Thursday July 25, 2019)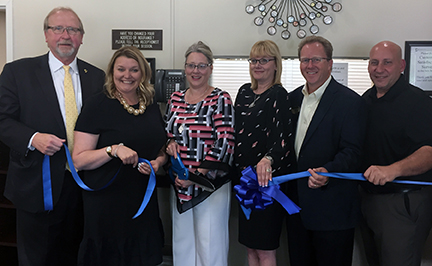 Left to right: Mark Pile, Diakon president/CEO; Jennifer Wilson, president/CEO, First Community Foundation; Laurel Spencer, Diakon Family Life Services executive director; Shari VanderGast, Diakon SVP for operations; Scott Habecker, Diakon CFO/COO; and Dave Irvin, Diakon facilities management.
Diakon Family Life Services today dedicated its newly renovated counseling center at 435 W. Fourth Street in Williamsport, Pennsylvania.
Diakon received a $109,500 grant from the Williamsport Lycoming Community Fund at the First Community Foundation Partnership to help fund the renovations.
"We are pleased we have been able to make significant changes to this location, from which we have served the community for decades," says Laurel Spencer, executive director of Diakon Family Life Services.
The local grant, she adds, was "critical because of our focus on offering counseling and behavioral health services at affordable rates, as well as on a sliding-fee scale." The Fourth Street location is on a public bus route, allowing the center to serve people with limited financial resources. More than 70 percent of clients served by the center are at or below the poverty line, Spencer adds.
The $137,000 project included an increase in therapy spaces from 14 to 16, efficiency-focused renovations of reception and administrative areas, upgrading of bathroom facilities, soundproofing of walls, replacement of windows and carpeting and exterior painting. The work also involved the purchase of new furnishings, enhancements to building security and installation of teleconferencing equipment to reduce staff travel expenses.
Further, says Spencer, the increase in therapy suites is allowing the program to relocate its SPIN program for adolescents from leased space in another West Fourth Street location to the renovated building, increasing staff efficiencies and reducing costs.
Diakon Family Life Services offers comprehensive behavioral health care. In addition to counseling, the Diakon center provides family-based in-home services, school-based counseling, addictions counseling, trauma-focused therapy, the SPIN service and programming for the LGBTQ community.
The First Community Foundation Partnership works to improve the quality of life in north-central Pennsylvania through community leadership, the promotion of philanthropy, the strengthening of nonprofit impact and the perpetual stewardship of charitable assets.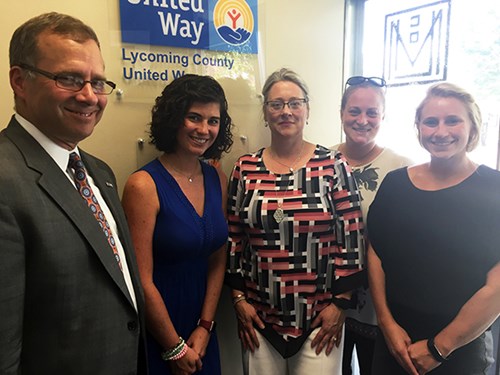 Among attendees were staff of the Lycoming County United Way, on whose support Diakon Family Life Services depends. From left to right are Ron Frick, UW president, Brittany Fischer, UW vice president for community impact; Laurel Spencer, Diakon Family Life Services executive director; and Corinne Stammel-Demmien and Melyssa McHale, UW resource development managers.
---
For further information, please contact:
William Swanger, M.A., APR, Fellow PRSA
Senior Vice President, Corporate Communications
Diakon Lutheran Social Ministries
(717) 579-9913
Archive
2023
2022
2021
2020
2019
2018
2017
2016
2015