Diakon Adult Day Services receives grant from sister Lutheran agency to serve more low-income adults
Hagerstown, Md. (Monday January 12, 2015)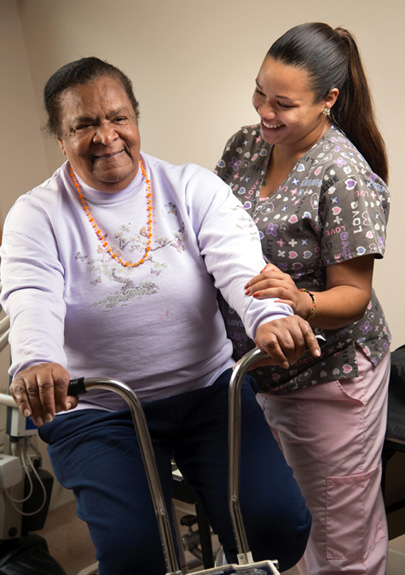 Diakon Adult Day Services at Ravenwood provides a wide range of health- and wellness-related programs for older adults from the Washington County, Maryland, area.
The Community Impact Council of National Lutheran Communities & Services, Rockville, has awarded a $16,650 grant to Diakon Adult Day Services at Ravenwood to assist in providing adult day services to lower-income older adults and those with disabilities.
"The grant, for which we are very grateful, provides $15,000, which will allow seniors and adults with disabilities to receive adult day care at half-cost," says Anne Dottavio, director of adult day services for Diakon Child, Family & Community Ministries. The additional $1,650 will be used to purchase two recumbent stationary bicycles for the adult day services center, she says.
This is the second National Lutheran Communities & Services grant provided to Diakon Adult Day Services, located at 1109 Luther Drive on the Ravenwood campus of Diakon Senior Living – Hagerstown. "Last year we also received $15,000 to help subsidize adult day care for those with limited incomes," says Dottavio.
The grant was one of 15 awarded by National Lutheran Communities & Services' Community Impact Council for the 2014/2015 grant year, totaling $198,567. The community impact program was established to enhance the organization's commitment to local communities by working collaboratively with other organizations to enrich the lives of older adults. The grants are designed to address issues uncovered through community-needs assessments including chronic disease management, accessing health care and social services, social isolation, financial insecurity, and the challenges of dealing with Alzheimer's, dementia and memory loss.
Diakon Adult Day Services at Ravenwood offers daytime assistance that allows older persons or those with disabilities to continue to live in their own homes or with family members. The program provides in-home caregivers with a respite during the weekdays, offering an environment in which participants can benefit from activities, nursing care, and various amenities including medication management, nutritious meals, therapy and social services consulting.
A sister Lutheran organization of Diakon, National Lutheran Communities & Services is a not-for-profit, faith-based ministry of the Evangelical Lutheran Church in America's Delaware-Maryland, Metropolitan Washington, D.C., and Virginia synods, serving people of all beliefs. NLCS provides seniors with a variety of lifestyle, residential and health care options through retirement communities in Maryland and Virginia.
---
For further information, please contact:
William Swanger, M.A., APR
Senior Vice President, Corporate Communications
Diakon Lutheran Social Ministries
(717) 795-0308
E-mail: swangerb@diakon.org
Archive
2023
2022
2021
2020
2019
2018
2017
2016
2015