Diakon Kathryn's Kloset partner participates in mayor's Back-to-School rally
Baltimore, Md. (Wednesday August 19, 2015)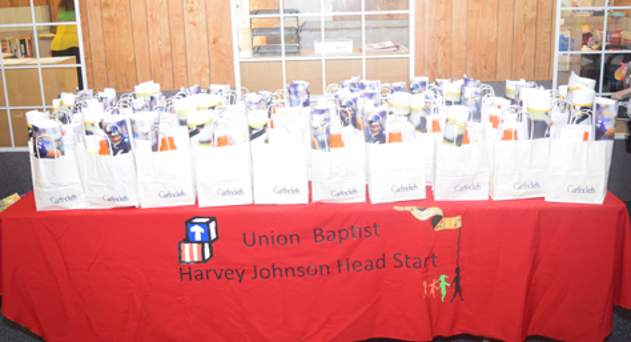 The Head Start table featuring some Diakon Kathryn's Kloset-provided items.
Diakon Kathryn's Kloset participated in the Baltimore mayor's recent Back-to-School Rally. The event was held in early August at City Hall.
According to Wade Brown, executive director of Diakon Kathryn's Kloset, located in Baltimore County, the warehouse ministry provided shoes and clothing for the Harvey Johnson Head Start Program, housed at Union Baptist Church, to provide to participants in the mayor's annual effort to aid those in need.
The local Head Start program is a partner of Diakon Kathryn's Kloset, which solicits and stores corporate donations of cleaning, personal care and other products, making them available to other nonprofit groups to provide to people in need—at no cost to the end-recipient.
---
For further information, please contact:
William Swanger, M.A., APR
Senior Vice President, Corporate Communications
Diakon Lutheran Social Ministries
(717) 795-0308
E-mail: swangerb@diakon.org
Archive
2023
2022
2021
2020
2019
2018
2017
2016
2015