Foundation grant will enable Diakon Kathryn's Kloset to offer more products
Baltimore, Md. (Tuesday August 18, 2015)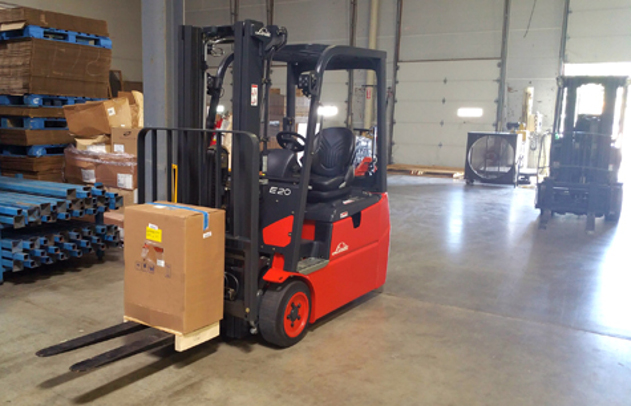 The new forklift, with older model in the background. The increased capacity will allow Diakon Kathryn's Kloset to accept more items in a timely manner.
A regional foundation—which wishes to remain anonymous—has made a significant investment in Diakon Kathryn's Kloset that will allow the program to accept more products for use by other nonprofits.
The foundation had given Diakon Kathryn's Kloset $40,000 to purchase a new forklift as opposed to buying a used one that had been in use under a lease, says Wade Brown, executive director of Diakon Kathryn's Kloset, located just outside the City of Baltimore.
The program solicits and stores corporate donations of personal care, cleaning and similar products, which are in turn made available to regional and national shelters, centers, and other nonprofit organizations to provide to at-risk people in their communities, at no cost to the end-recipient.
"We purchased and had the new forklift delivered, allowing us to attempt to end our agreement for the lift we had been leasing," Brown says. "While we had a few months remaining on that lease, the lease company offered to sell us the forklift at a greatly reduced price."
When Brown contacted the foundation to return unspent money from the original grant—the new forklift also had been obtained at a reasonable price—"the foundation responded by telling me to purchase the leased forklift—and to keep the balance in support of our efforts," he says.
"So, instead of one new forklift, we now have two lifts, which will allow us to accept even more products in a timely manner. We deeply appreciate the foundation's support in making such a huge difference!"
---
For further information, please contact:
William Swanger, M.A., APR
Senior Vice President, Corporate Communications
Diakon Lutheran Social Ministries
(717) 795-0308
E-mail: swangerb@diakon.org
Archive
2023
2022
2021
2020
2019
2018
2017
2016
2015