Frostburg Heights receives award for 'Excellence in Geriatrics and Gerontology'
Frostburg, Md. (Monday June 25, 2018)
The Maryland Area Health Education Center West has presented Frostburg Heights with its "Award for Excellence in Geriatrics and Gerontology."
Presented in late June, the award recognizes Frostburg Heights and its staff for collaboration on ...
Health education programs for residents
Workshops on inter-professional health careers in geriatrics, for students at Frostburg State University
Research with the University of Maryland School of Pharmacy, addressing health-related issues that affect older adults in Maryland.
Diakon's Frostburg Heights is a rental-assistance HUD Section 8 housing complex that will celebrate 40 years of service in 2019. It serves people 62 years of age and older or physically challenged individuals who are at least 18. The apartment complex also offers the Choice program, which provides weekly assistance and daily meals to help people remain independent.
The award notes that "in addition to providing quality independent living facilities, services and activities that help maintain independence and an engaging lifestyle, Frostburg Heights has collaborated with AHEC West since 2006, including":
A three-session medication safety series for residents including medication safety, understanding hypertension medications and understanding diabetes medications
Facilitating presentations on geriatrics resources and interprofessional care for the Maryland Activities Coordinators Society State Conference
Hosting "Assessing Needs of Older Adults: Interdisciplinary Geriatric Assessment" workshops for university undergraduate students, highlighting health-career opportunities in geriatrics
Collaborating with the University of Maryland School of Pharmacy on a research project on medication safety and
Collaborating with the pharmacy school on a focus group of Frostburg Heights residents' views on the Medicare Wellness Visit benefit.
These collaborations were facilitated by Rebecca Brown-McCusker, Frostburg Heights manager, and Cynthia McCutcheon, the Heights' activities coordinator.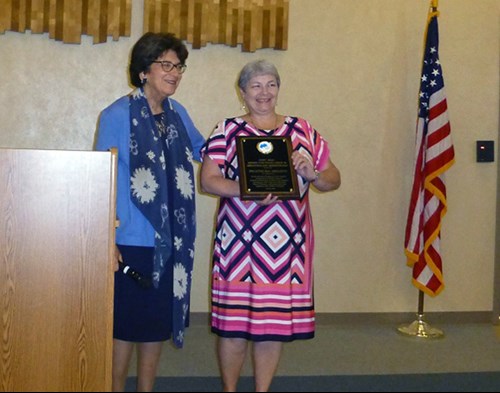 Reba Cornman, director of the Geriatrics and Gerontology Education and Research program at the University of Maryland, left, presents the AHEC West Geriatrics and Gerontology Award to Cynthia McCutcheon of Frostburg Heights.
---
For further information, please contact:
William Swanger, M.A., APR
Senior Vice President, Corporate Communications
Diakon Lutheran Social Ministries
(717) 795-0308
E-mail: swangerb@diakon.org
Archive
2023
2022
2021
2020
2019
2018
2017
2016
2015