Mark Pile announces his retirement as Diakon president/CEO
Topton, Pennsylvania (Friday September 18, 2020)

In concert with the Diakon Board of Directors, Mark T. Pile, MSHA, MSW, Diakon president/CEO, today publicly announced his retirement, effective the end of 2020.
The public announcement followed communication Thursday and earlier today to Diakon staff, related boards of directors and key church leaders. The Diakon board will detail next steps in early October.
"It's been a true blessing to have served with a social ministry organization that has an essential mission and provided care and services for more than 150 years," says Pile. "I was part of the birthing of Diakon and have been part of its entire existence. Having the opportunity to serve with wonderful board members and committed staff and leadership has been truly a gift I will always cherish. I have so enjoyed interacting and serving those who have come to Diakon in need of care and service."
In accepting Pile's notice of retirement earlier this summer, Larry Delp, chair of the Diakon Board of Directors, encapsulated the board's sentiments: "Mark's understanding of our industry and his strategic vision have provided us with a strong position going forward. His dedication to the organization, its staff and to all of the residents and clients we serve has been truly extraordinary. Our boards have been blessed to witness his leadership." Diakon is the parent organization for Diakon Lutheran Social Ministries, which operates Diakon's senior living communities, and Diakon Child, Family & Community Ministries.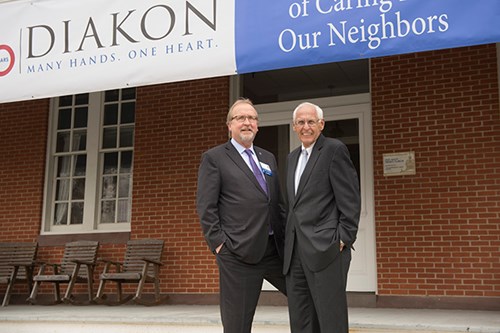 Mark Pile, left, with Larry Delp at a 150th anniversary celebration event.
During Pile's tenure, the organization has ...
Successfully completed the integration of two large social ministry organizations to become one of the larger Lutheran service organizations in the country.
Provided $1 million to $1.6 million a month in charitable care.
Had an annual impact on the community of an additional $20 million.
Served hundreds of thousands of people of all ages.
Adjusted the scope and size of its senior living communities and community programs to make sure the organization remains sustainable and a market leader.
Completed various financial initiatives to ensure the longevity and sustainability of Diakon and its programs.
Created the "sister" organization of Diakon Child, Family & Community Ministries to guarantee a focus on community-based services for children, youths and families. With extensive support from other key staff members, this change resulted in those community-based programs becoming self-sustaining for the first time in decades. Further, the step allowed previous financial subsidies to be used for other purposes including exploration of programming related to unmet community needs.
Completed the refurbishment of Old Main, a historic structure on The Lutheran Home at Topton campus.
Improved recruitment and reduced employee turnover and nursing-agency usage, while working to develop effective strategies to retain staff.
Successfully marked its 150th anniversary with a year-long celebration.
Summarizing the last 11 years, a board member notes that "I watched Mark Pile take the reins of the Diakon organization and make careful adjustments that focused its services on what we would call its core ministries. This process was deliberative and while focused on coping with the financial challenges that most non-profit social service organizations experience today, it always kept those we serve at the forefront. This focus on the well-being of others is a hallmark of Mark's tenure as Diakon CEO, as well as during his earlier work as chief operating officer."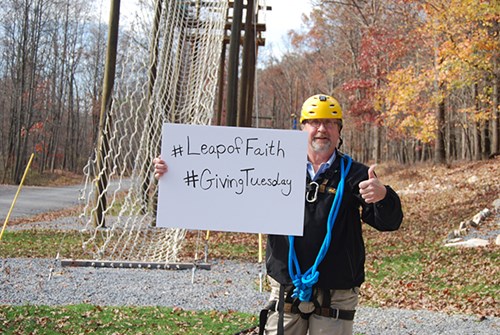 A hallmark of Mark Pile's tenure has been his passion and commitment to Diakon programs. Several years ago, as part of a fundraising project, he climbed the high-elements ropes course at the Diakon Wilderness Center near Boiling Springs, Pennsylvania.
In recognition of his accomplishments, Pile earlier this year received the Leadership Excellence Award in the Central Penn Business Journal's annual Nonprofit Innovation Awards. The award is given for significant contributions in multiple areas of nonprofit operations, including response and adaptation to a changing society; collaboration with other organizations, boards of directors, staff and other key partners; enhanced service delivery; innovative thinking; and increased organizational transparency and accountability.
In 2013, he received the Distinguished Alumni Award for Social Work Practice from the University of Pittsburgh School of Social Work. The award acknowledges and honors a social work alumnus or alumna who, throughout his or her career, has consistently demonstrated exceptional contributions to the profession and the community at large. According to the official who nominated Pile, "Mark's career is a perfect model for this award. His career has encompassed a wide range of social work services, all social work methods and challenging leadership positions. The university is proud to honor Mark not only for his many years of outstanding performance as a professional social worker, but also for the honor he has brought the University of Pittsburgh as one of its most distinguished alumni."

President/CEO since Jan. 1, 2010, Pile, a resident of Macungie, Pennsylvania, was named Chief Operating Officer at Diakon's creation in 2000, having held a similar role with Lutheran Services Northeast, one of the two organizations that created Diakon. He joined LSN as Senior Vice President in 1997, overseeing that organization's operations in 14 eastern Pennsylvania counties. Before joining LSN, Pile served as Vice President of Somerset Hospital, a non-profit, 150-bed community hospital in western Pennsylvania. Prior to that, he served as Chief Executive Officer of Twin Lakes Center, a Somerset, Pennsylvania, non-profit drug and alcohol treatment service under Somerset Hospital's corporate umbrella. He was chairman of the steering committee and a founder of the Somerset Area Food Pantry and a former board member of Meals on Wheels of Somerset County and of Allegheny Lutheran Social Ministries, Hollidaysburg, serving as board vice-chair. He also is past president of the Somerset Exchange Club.
Pile is a 1974 graduate of Lycoming College in Williamsport, Pa., from which he received a bachelor's degree in sociology, cum laude. He earned his Master of Science in Social Work degree from the University of Pittsburgh. He also holds a Master of Science degree in Health Administration from the Medical College of Virginia in Richmond, Va.
A 1970 graduate of Somerset High School in Somerset County, Pennsylvania, Pile is a son of the late Richard R. and Ruth Z. Pile of Friedens and brother to Bruce Pile and John Pile of Friedens and the Rev. Gregory Pile of Davidsville, retired bishop of the Allegheny Synod of the Evangelical Lutheran Church in America. Married to Susan Pile, he has six grown children and six grandchildren.
---
William Swanger, M.A., APR, Fellow PRSA
Senior Vice President, Corporate Communications
Diakon Lutheran Social Ministries
(717) 579-9913
E-mail: swangerb@diakon.org
Archive
2023
2022
2021
2020
2019
2018
2017
2016
2015