A Diakon APPRISE coordinator receives state award
State College, Pa. (Thursday May 24, 2018)
Alicia Bonadonna, Diakon's Pike County APPRISE coordinator, was the recent recipient of the 2018 APPRISE Secretary Award.
The award is presented to a local coordinator—Pennsylvania has 52 APPRISE programs—who has demonstrated excellence in a variety of ways.
According to the state, the Secretary Award is the most prestigious award for an APPRISE team to receive. Bonadonna and her Pike County team earned the award for all-around excellence in collaboration, innovation, performance and client service.
APPRISE is a free health insurance counseling program designed to help Medicare beneficiaries understand the federal program. Through more than 700 trained APPRISE volunteers in the Commonwealth, Medicare beneficiaries are provided with objective, easy-to-understand information about Medicare Supplemental Insurance, the Medicare Advantage Plan and prescription drug plans. The goal is to help Medicare participants, their families and caregivers make well-informed decisions about health-care benefits.
Pennsylvania Department of Aging Secretary Teresa Osborne presented Bonadonna with the award at the recent APPRISE Conference, held in May in State College.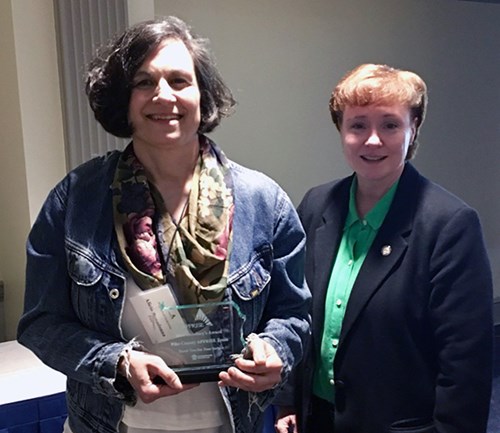 Alicia Bonadonna, left, accepts award from Pennsylvania Department of Aging Secretary Teresa Osborne.
Archive
2023
2022
2021
2020
2019
2018
2017
2016
2015