Cumberland Crossings staff acknowledged for excellence in wound care.
Cumberland Crossings, Carlisle, PA (Monday April 24, 2023)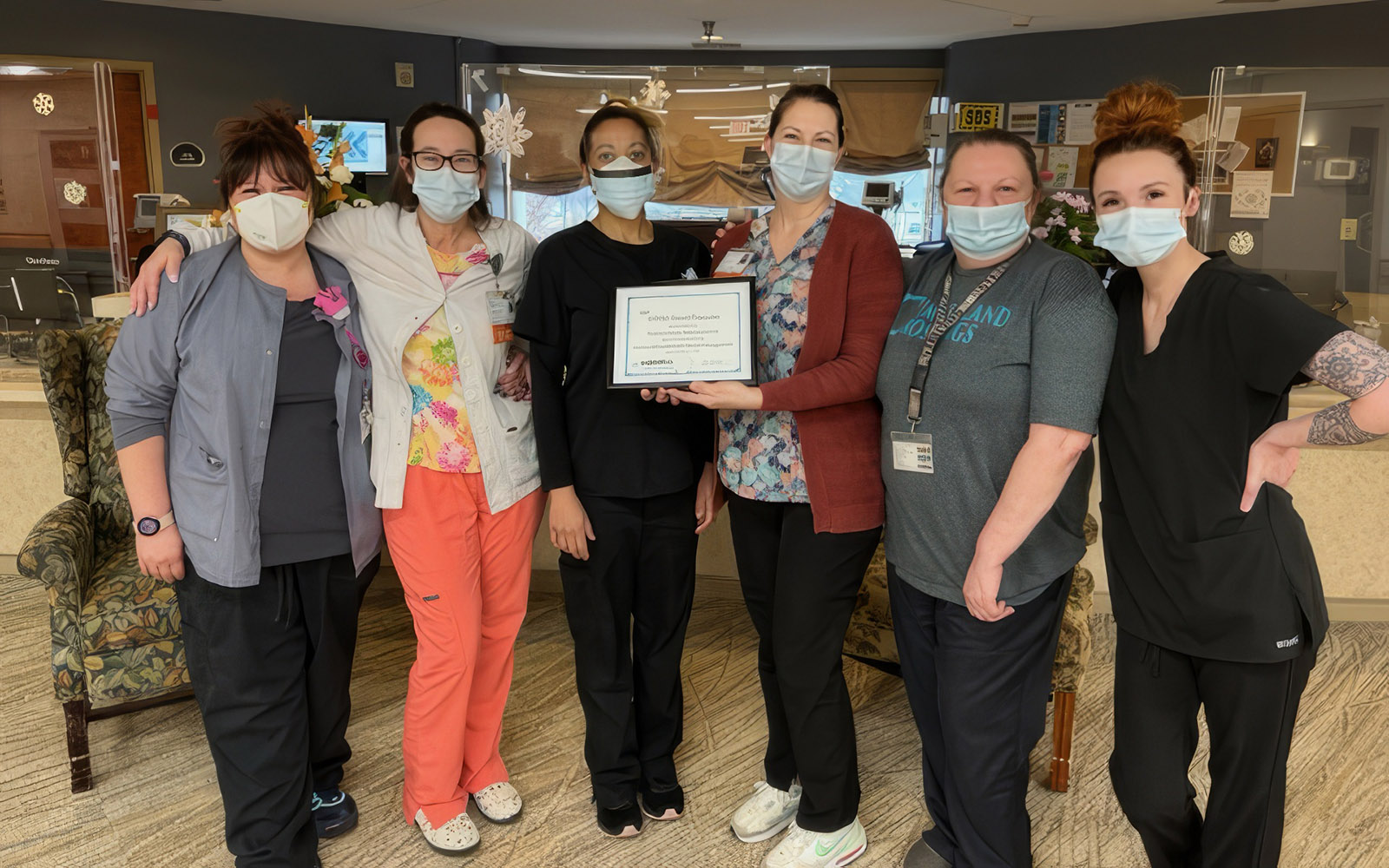 Diakon Cumberland Crossings staff acknowledged
The VOHRA Wound Care Certification - VWCN®, created to highlight and identify facilities that have developed a superior wound management program, has acknowledged and awarded Cumberland Crossings staff for their excellence in this area. Dr. Telisha Ortiz presented the certificate to Cumberland Crossings RN Supervisor Stefanie Sutton and her team on March 13, 2023.
Criteria for the program include less than 1% wound-related hospitalization rate, regular team meetings with a focus on Quality and Process Improvement(QAPI) and a designated Vohra Wound Care Certified nurse, available seven days a week.
This certification shows clinical excellence, recognition of high-quality nursing, issuance of a joint news release, positive marketing opportunities for outreach, recognition on VOHRA physicians' website, continued physician support and education and outcomes reporting. Only 10% of Vohra's skilled nursing facility partners have qualified for this annual certification!
Cumberland Crossings places a top priority on healing and rehabilitating our residents to return them to their homes. Patients are admitted with chronic or complex wounds because Cumberland Crossings is equipped to treat them with its specialized wound management program.
Cumberland Crossings has partnered with Vohra Wound Physicians to bring physician-led bedside wound care to their facility. A Vohra wound physician visits the facility weekly to treat residents with wound and skin issues. This reduces the need to send residents to wound care centers or hospitals.
The multispecialty team on campus treats all types of wounds, including pressure ulcers, venous ulcers, arterial wounds, diabetic neuropathic wounds, post-surgical wounds and others. The wound physician works with the primary care physicians, physical therapists, staff nurses and other specialists to ensure residents are receiving excellent wound care. As long-term facilities continue to provide more specialized services for complex ailments, the presence of a wound physician is an important link in providing superior care.
Cumberland Crossings is also a Continuing Care Retirement Community, which means a full range of exceptional lifestyle options are offered in addition to independent living, personal care, short-term rehabilitation and traditional skilled nursing.
Congratulations to the hard-working and knowledgeable staff at Cumberland Crossings on this achievement!
Archive
2023
2022
2021
2020
2019
2018
2017
2016
2015