Diakon rededicates Old Main, The Lutheran Home at Topton, opens foster care-focused permanency center
Topton, PA. (Thursday March 15, 2018)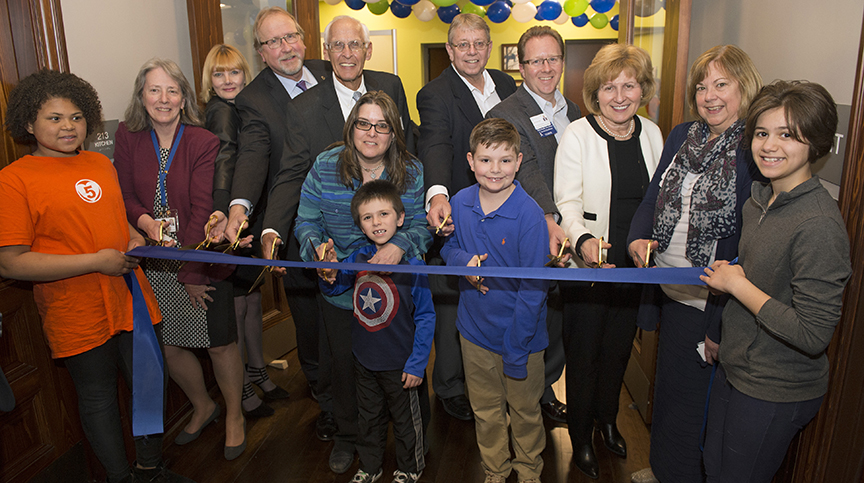 Ribbon is cut for the new Helen N. Palmer Center for Permanency
Magic had already occurred.
That is how Shari VanderGast, Diakon's senior vice president for administration and child and family services operations, described what had happened in the new Helen N. Palmer Center for Permanency.
"On Tuesday, a brand new resource family arrived at the center for a review of their family profile—that's the document we create about each new foster and adoptive family as they go through our training and approval process. They had just finished their meeting and signed off on their profile when a foster care case manager hung up the phone in her office and walked down the hallway to them," VanderGast said.
"During that phone call, our manager learned of emergency need for care for two very young children. In their family profile the young family we had just met with noted they had room in their hearts and home for—two young children. So even before their paperwork was finalized, we had an urgent need they could meet.
"They entered this beautiful space as a couple and left as foster parents. It was magical."
That "beautiful space" was dedicated today as part of Diakon's 150th anniversary celebration. The event at The Lutheran Home at Topton included rededication of the Old Main building, on which a $7 million renovation project had just been completed, dedication of the Palmer center and a blessing of the iconic building and the entire senior living community located there.
The Old Main project involved renovation of the previously unused second floor of the building, installation of an elevator and completion of various exterior refurbishment efforts. While the 32,000-square-foot building was structurally sound and its first floor was being used, Old Main needed extensive work to prevent further deterioration and make better use of the historic structure.
---
"Last year there were 16,000 children in foster care in Pennsylvania with an average amount of time of 18 months in care. About one-third of the children are in our care as a result of their parents' drug use. Last year, for the third year in a row, the number of children entering foster care was greater than the number leaving foster care. On any given day here in Pennsylvania, the average age of a child in foster care is younger than 9 years old. The need for families is great!" – Shari VanderGast in her remarks.
---
The renovations included creation of the permanency center, an area of the second floor of Old Main designed to provide office space for Diakon Adoption & Foster Care staff and facilities to support and train foster and adoptive families and ease the transition of children into a new family setting.
Founded in 1896, The Lutheran Home at Topton home represents one of the two major roots of the Diakon organization; the other is the Tressler Orphans Home in central Pennsylvania, which was founded in 1868.
"In 1896, the Rev. Uriah P. Heilman broke ground at this very spot for Old Main at the Topton Orphans Home," said Mark T. Pile, Diakon president/CEO, in his remarks.
"Even earlier—in 1868—the Rev. Philip Willard traveled to Loysville in central Pennsylvania to purchase a soldiers orphans home established by the Tressler family to make it an institution of the church, one hundred fifty years ago this year. What an amazing history—and an amazing ministry—established so long ago but continued, without interruption, over the next century-and-a-half. That history is continued today by Diakon Lutheran Social Ministries and Diakon Child, Family & Community Ministries, our sister-organizations offering senior living services and programs for children and families."
Seed money for the Old Main renovation project came from a bequest of $7.2 million, received several years ago from the estate of Helen Nicholson Palmer of Wyomissing, who passed away in December 2012. Palmer had served on the board of managers of the Home for Widows and Single Women, Reading, which was merged into The Lutheran Home at Topton in 1975. She also attended board meetings at Topton.
"Mrs. Palmer was very devoted to service to people in need, including children. We are pleased we could name the permanency center after her. The center is entirely in keeping with the original intent of The Lutheran Home to serve children and youths with few other resources," notes Mark T. Pile, Diakon president/CEO.
"How is the Palmer Center for Permanency going to help us meet the needs of more children?" VanderGast asked. "Right now we have families for only one out of every four children referred to us. We need more families!
"So families interested in providing foster care or adopting will learn in our new training room. The center also has a wonderful playroom where children and their parents can visit. In our new kitchen, families can make a meal for their children. The Palmer Center's beautiful new space will allow us to hold 'matching events' at which prospective parents can meet children who are available for adoption, a space where we can ask older children in need of a family what they want to do when they grow up, where they see themselves in five years and a place for them to dream about what family means to them."
Overall renovation work was done with respect for the building's historical appearance, Pile noted. In addition to interior work, the project included renovation or replacement of exterior porches, window replacements or refurbishment, installation of new heating and air-conditioning systems and upgrading of the electrical system, all of which will help to preserve the building's underlying structure and ensure continued use of Old Main, listed in the National Register of Historic Places.
The first floor of the building houses the Brandywine Community Library, the historic Putz train layout and some offices for The Lutheran Home at Topton senior living community and other Diakon staff members.
---
Taking part in the ribbon-cutting, left to right, front, are Valerie Minett and Zaiden Lanning-Minett, Diakon Adoption & Foster Care family members, and Cayden Roth, served by Diakon Adoption & Foster Care and an Old Main project donor; rear, Lillyana Lanning-Minett, family member; Joyce Riche, director of the Topton-based office of Diakon Adoption & Foster Care; Shari VanderGast, SVP, Diakon administration and child and family program operations; Mark Pile, president/CEO; Larry Delp, Diakon board chair; Steve Daniels, Diakon facility planning and development; Scott Habecker, Diakon CFO/COO; state Sen. Judy Schwank; Kathy Roach, executive director, Diakon Adoption & Foster Care; Jayla Lanning-Minett, family member.
---
For further information, please contact:
William Swanger, M.A., APR
Senior Vice President, Corporate Communications
Diakon Lutheran Social Ministries
(717) 795-0308
E-mail: swangerb@diakon.org
Archive
2023
2022
2021
2020
2019
2018
2017
2016
2015