Diakon senior living vice president completes national curriculum
Allentown, Pa. (Wednesday January 22, 2020)
Access to industry peers and networking with program alumni were two of the biggest benefits of completing LeadingAge PA's 2019 Fellows in Leadership Program, says Cindy Bonney, vice president of sales and marketing for Diakon Senior Living Services. 
The one-year, four-session, leadership-education program focuses on effective leadership practices that help participants meet real-world challenges. For Bonney, who at the time of her program enrollment was senior executive director of Luther Crest and The Lutheran Home at Topton, two Diakon senior living communities, that challenge was how to recruit personal care aides.
"It is difficult to recruit and retain health-care staff in the current job market," says Bonney. "Personal aides are not certified, and the people we attempt to recruit often choose higher-paying retail jobs."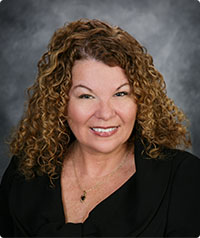 Cindy Bonney
However, in talking with her fellow program participants, she learned how one organization promoted the job's career path.
"Once you are hired as a personal care aide, you can be trained to be a medication technician," she explains. "Most can go on to be a certified aide, licensed practical nurse and, eventually, a registered nurse."
Bonney took that conversation direct to potential candidates.
"I was negotiating a contract with a local trade school for an externship through which we will have medical assistants do clinical rounds in our personal care home at Luther Crest," she says. "The people already attending school for a medical career are certainly ones we hope to attract as employees."
In addition to learning a new approach to recruitment, Bonney credits the leadership program with helping her to improve her supervisory style.
"One of the things I learned is to listen more," she says. "As a supervisor, I thought I had to come up with the answer all the time. Instead, I learned to ask the person who comes to you with a concern to offer a solution. Often, it is the people closest to the problem who have the answer. That's important guidance for anyone in leadership" 
---
For further information, please contact:
William Swanger, M.A., APR, Fellow PRSA 
Senior Vice President, Corporate Communications
Diakon Lutheran Social Ministries & Diakon Child, Family & Community Ministries
(717) 579-9913
Archive
2021
2020
2019
2018
2017
2016
2015