U.S. Rep. Elijah Cummings visits Diakon Kathryn's Kloset
Baltimore, Md. (Wednesday March 11, 2015)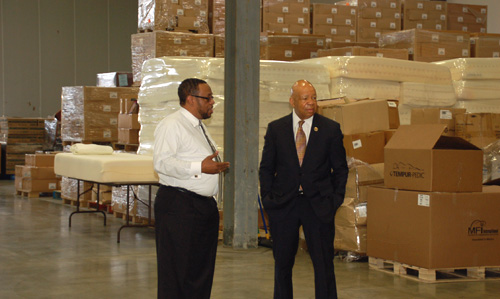 Wade Brown, left, provides a tour of the Diakon Kathryn's Kloset outside the City of Baltimore to U.S. Rep. Elijah Cummings.
U.S. Rep. Elijah Cummings (Md-07) visited Diakon Kathryn's Kloset this week.
According to Wade Brown, executive director of Diakon Kathyrn's Kloset, Cummings visited the program site, located in Baltmore County just outside the eastern part of the City of Baltimore, to "tour our new facility, discuss our continued parternship, which has existed with his office since 2007, discuss our reach locally and nationally, and review our continuing needs for both funding and donated products."
In addition, the pair discussed non-profit relationships in the region, program endorsements, and creating greater awareness of the program among key individuals in the region. In addition, a staff member from Cummings' office will be serving on the program's advisory committee.
Cummings' district includes just over half of Baltimore City, as well as most of Howard County.
Diakon Kathryn's Kloset solicits corporate donations of personal care and similar products, warehouses them, and makes them available to local shelters and resource centers to distribute, without charge to the end-recipient, to people in need in local communities. Each year, the program serves between 200,000 and 400,000 people regionally, nationally, and even internationally.
---
For further information, please contact:
William Swanger, M.A., APR
Senior Vice President, Corporate Communications
Diakon Lutheran Social Ministries
(717) 795-0308
E-mail: swangerb@diakon.org
Archive
2023
2022
2021
2020
2019
2018
2017
2016
2015