Diakon Wilderness Center and Carlisle Arts Learning Center partner for Summer Camps 2021
The Diakon Wilderness Center near Boiling Springs, Cumberland County, Pennsylvania, continues to be the setting for a unique "Art and Adventure Camp" series, held in the summer. The wilderness center and the Carlisle Arts Learning Center partner to offer camp sessions for children ages 9 to 14.
Each camp features a week of nature, art and exercise. Outdoor adventures will include hiking, low ropes and high ropes courses, and canoeing. Art projects will be interwoven throughout each day with thought-provoking projects that use nature in design and concept. The camp is set deep in the woods where participants are surrounded by thousands of acres of forest and next to the Appalachian Trail
The camp offers state-of-the-art low and high challenge courses, access to excellent rock-climbing, and highly trained and skilled staff. Each day is filled with challenge and adventure, opportunity to grow physically and mentally and time for exploration of the forest, along with art-related projects and learning. Often, the day ends with time hanging out in Little Dogwood Creek, which runs through the center campus; participants say this is always a highlight of the camp.
Each week of camp is different from the others, so join us for one camp or all three! The agenda below is for illustration only; activities may take place on a different day from that noted or be altered based on the preferences of camp participants.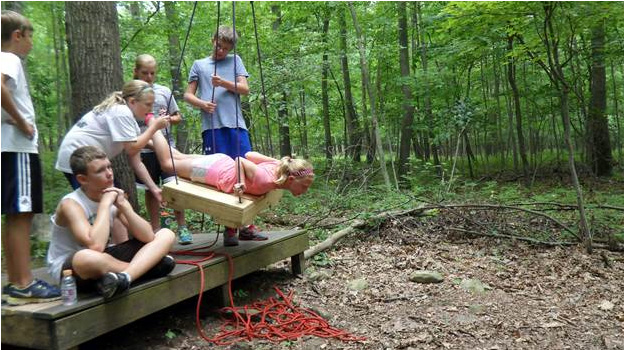 Monday
Morning Challenge—Low Challenge Course: These activities are low to the ground, but still high on challenge, trust and team-building. Participants are asked to overcome physical obstacles or achieve a goal together that might not be possible without the help of others. Participants remain on or within few feet of the ground during these activities. Examples include a gigantic teeter-totter the group must balance, a space shuttle or a blind maze the group must navigate together.
Afternoon Challenge—Giant Swing. The name says it all. Participants have the opportunity to swing through a very large space. The challenge here is dealing with heights, trust of gear and other participants and the adrenalin rush that comes from flying though the air. Respecting one another and trusting the team are essential as participants work together to pull each team member 40 feet into the air to experience this high-challenge activity.
Tuesday
Morning Challenge—Alpine Tower Climbing. Shaped like a 45-foot hourglass, the Alpine Tower offers many options. In the morning participants can climb multiple routes to the top and get lowered down. Participants will learn the skill of belaying, improving their ability to communicate and focus while gaining confidence.
Afternoon Challenge—Alpine Tower Burma and Zipping. In the afternoon, participants will have the opportunity to walk across our Burma Bridge (a rope bridge) to the top of the tower and then ride a zip line to finish the day.
Wednesday
All Day—Hike to our rock-climbing site, set-up, and climb as much as participants like.
Thursday
Canoeing, hiking and swimming at Laurel Lake in Pine Grove Furnace State Park or canoeing the Conodoguinet Creek.
Friday
Wrap-up day with more high challenges, art and nature exploration. Parents are invited to experience the end of summer camp by joining us in the afternoon.
And don't forget the many art-related activities included as part of these high-adventure, challenge- and fun-filled days!