Groundbreaking ceremony at Luther Crest
Luther Crest, Allentown, PA (Wednesday August 24, 2022)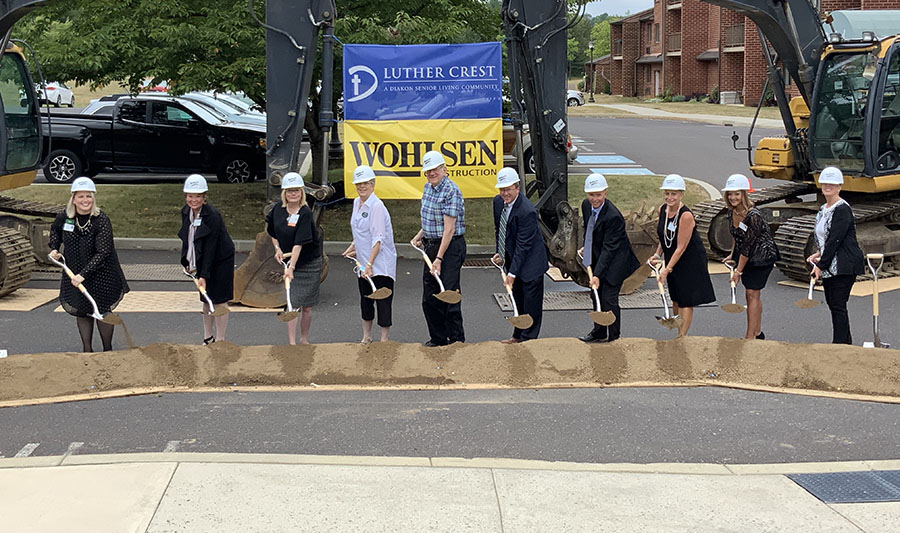 In photo from left to right: Nicole Rohrbach, Luther Crest executive director; Cindy Bonney, VP of sales & marketing for Diakon Senior Living, Shari VanderGast, Diakon executive vice president & chief operating officer; Linda Moyer, Greenwood Premier Club member; Maurice Gaukler, president of Luther Crest Resident Association; Scott Habecker, Diakon president/CEO; Matt Petrauskas, Diakon corporate director of sales training & support; Mary Louise Drosdak, Luther Crest sales & marketing manager; Lori Lubinensky-Ritter, Luther Crest move-in coordinator; Donna Kuschner, Luther Crest sales & marketing manager.
---
Luther Crest residents and Diakon staff broke ground yesterday for a new development of senior living apartments, called Greenwood, on the Allentown campus of the senior living community.
With approximately 250 current residents, future residents, and Luther Crest staff watching, a group of Diakon executives, the president of the Luther Crest resident association, the Luther Crest sales team, and one of the first new residents of the Greenwood expansion tossed shovelfuls of dirt to symbolize the start of the project, construction on which will begin in a few weeks. The Rev. Fady Lous, chaplain at Luther Crest, offered the invocation and blessing for the ceremony and The Rev. Nelson Quinones of the Lehigh Mission District offered the benediction. Following the ceremony, stations were set up throughout the commons and dining areas to showcase specialty food items prepared by the Luther Crest culinary staff.
"Luther Crest is truly the family you get to choose, and I'm so excited to watch our family grow," shared Nicole Rohrbach, NHA, PCHA, executive director at Luther Crest, in her remarks at the ceremony.
The Continuing Care Retirement Community, located at 800 Hausman Rd., is building 71 spacious independent living apartments, as well as renovating the dining and interior common areas. The community also offers skilled nursing, memory care, and personal care services.
The new apartments will incorporate open floor plans ranging from 920 to 1900 square feet of living space. The one- and two-bedroom options include high ceilings, large balconies, and modern kitchens and bathrooms. The dining renovations and expansion will consist of traditional dining options, a teaching kitchen, exhibition area, bistro, bar/tavern, and more.
"The Greenwood expansion as well as our other planned renovations to Luther Crest are an opportunity to make an already-great community even better," said Scott Habecker, Diakon president/CEO. "We have been thrilled with the positive reaction from prospective residents of the Greenwood apartments, and our pre-sale results are allowing us to move forward earlier than originally planned. After significant planning, we look forward to seeing the continued enhancements and development of Luther Crest become a reality."
Anyone interested in receiving more information about the expansion should contact Matt Petrauskas at PetrauskasM@diakon.org.
Archive
2023
2022
2021
2020
2019
2018
2017
2016
2015