Timelines
1867
Orphans home newspapers. Fund-raising campaigns. Annual visitors' days. Many activities highlight the similarities between the earliest days of The Lutheran Home at Topton and the Tressler Orphans Home, Loysville.
And while they came to their charges in different ways, there were similarities, too, between the Rev. Uriah P. Heilman and the Rev. Philip Willard, first superintendents, respectively, of the Topton and Tressler orphanages.
Perhaps their most significant common attribute was unwavering dedication to the institutions they headed, resulting in positions that can only be described as 24/7. The drain of that work eventually cost Heilman his life.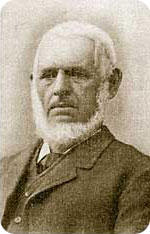 Philip Willard came first to the work, having visited the Loysville site in 1867 while an agent for the Lutheran Publication Society of Philadelphia. In response to the aftermath of the Civil War, the Tressler family had already converted their educational academy into a fledging home for soldiers' orphans.
Following the purchase of the site by the General Synod of the Lutheran Church, Willard was appointed superintendent. He immediately hit the road in search of donations to fund both the purchase of the site and general operating expenses.
Known affectionately as "Father"—not an ecclesiastical title but a reflection of his role at the home—Willard was 59 when he became superintendent, a position he held until he was 80. During those years, the home's "Old Main" was constructed and significant physical improvements made to the facilities.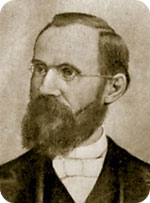 Uriah P. Heilman was slightly younger when in 1897 he assumed the superintendence of the "The Lutheran Orphans Home in Berks County, Pennsylvania"—the first name of the Topton facility. He was 47.
Also charged with raising funds for the new facility—it was to be built on farmland purchased on a hill overlooking the village of Topton in northeastern Berks County—Heilman played a more personal role in getting the building program under way.
According to published histories, "on the 29th of June, 1897, in the morning at 6 o'clock, the Superintendent, with pick and shovel on his back, went out to the building site of the projected main building and placed himself on the spot where his office was to be. " Asking God's blessing, "he dug out, in the shape of a cross, about the size of a man, several wheelbarrowsful of ground. Then looking towards the north and kneeling in the cross-shaped opening, he offered a brief prayer."
Building began in earnest later in the year, with the first orphans arriving in mid May.
In the spring of 1900, however, Heilman developed pneumonia, having taken "a chill during a trip to Schuylkill Haven, where he had gone to preach for an ailing brother [pastor]. " Having "pushed himself day and night" for the sake of the home, he didn't have the strength to ward off the affliction and died on April 10 at the age of 50.