Timelines
1966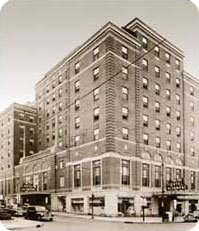 All Diakon retirement communities focus on hospitality.
But one long-ago facility may have cornered the market on that—after all, it was created within a hotel!
The Lutheran Home at Hazleton, the second retirement facility operated by Lutheran Welfare Service of Northeastern Pennsylvania—whose ministries are today continued by Diakon—was developed within the former Altamont Hotel in downtown Hazleton.
LWS moved its retirement accommodations into the nine-story building, approved for eventual occupancy by 169 "residents and patients," in April 1966. The sixth floor of the building was immediately renovated as a 31-bed "infirmary"—the term then for nursing care—with the seventh floor altered to offer an additional 30 beds the following year.
By 1973, the facility had undergone extensive renovations to its dining rooms, recreational facilities, kitchen, and administrative areas and featured a new physical-therapy suite and even a newly installed third elevator.
At near capacity as LWS prepared to celebrate its 15th anniversary that year, the facility included as part of its "family" residents of the Home for Homeless Women, Wilkes-Barre, Pa., which had been heavily damaged by flooding from Hurricane Agnes in 1972.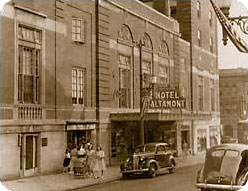 In 1976, the hotel's grand ballroom was converted to the Chapel of Christ the Servant, thanks to a $5,000 gift from Trinity Lutheran Church, Lehighton, as well as hundreds of additional contributions.
Nursing care residents of the Hazleton home relocated to what came to be called The Pavilion at Saint Luke Village in the fall of 1983 following completion of that facility, adjacent to The Manor at Saint Luke Village, which LWS had purchased in 1974. Other residents of the home moved into retirement-living accommodations at what came to be called Amity Place at Saint Luke Village. Saint Luke Village transitioned from Diakon Lutheran Social Ministries to Tandem Health Care in 2005, part of Diakon's sale of freestanding health care and assisted living centers at nine locations in Pennsylvania and Maryland.